Affordable and Quality Builders Waste Clearance Service in London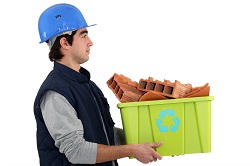 Renovation work is a messy job and it's inevitable that there will be waste left over after the builders have gone. Larger renovation work that lasts days, weeks or months will have a steady flow of builders waste that will need continuous clearing. To do this yourself requires time and effort. That's where we at Cheap Rubbish Removal step in. Our builders waste clearance will remove all rubbish left after a renovation or any other type of work on your property. We do this at an affordable price based completely on the job you need doing.
We also have some exclusive discounts on our services
at the moment, so call us now on
020 3744 5548
to get a free quote today.
What Our Service Offers
Our builders clearance service is available for residential and commercial properties, so we pretty much have every property covered throughout the whole of London. Our service is comprehensive with various levels and options available. At the most basic level, we can clear any builders waste as a one-off. At a more long-term level, we cover a regular clearance schedule where we clear your construction site on set days over a period of time. We are available to set up a builders waste clearance appointment on weekdays either during the working day or after hours. We also work on weekends and holidays. Our service includes a fully trained team, modern equipment, full insurance and effective methods. Same-day service is also available.
How to Get in Touch
With a customer support service available online and over the phone every day all day, it is now easier than ever to speak to one of our expert team. All you need to do is call us on
020 3744 5548
and you can chat with our team about your needs. To give you an accurate quote for our builders waste removal work, our friendly team will ask you a few questions to help us understand what you need. Remember, no job is too small or too big for us.
Customer service and delivering a quality job are our key priorities
and we will help you to clear any builders waste as efficiently and safely as possible.
A Flexible Schedule for You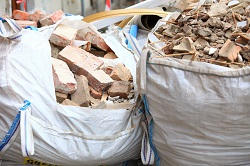 To give you the best possible choices for your building junk removal needs, we operate almost around the clock. We work during the week during usual business hours and after hours, as well as on weekends or holidays. There is no need to stress when you can clear any builders rubbish as we can do it for you at any time. We work all throughout London too so we can guarantee that we have the perfect appointment that matches your waste removal requirements.
Some of the incredible advantages that come with our builders clearance service:
• Experienced, skilled and friendly staff
• Total transparency with a no hidden costs policy
• Flexible appointments available
• Free quote and consultation
• Fully insured
• Customer Helpline open 24/7
• Environment-friendly
A Better Way to Clear Builders Waste
Builders waste clearance is not an easy job if left to your own devices. That's why it is better to get the experts in to do it for you. Cheap Rubbish Removal have been working in this field for generations. We have developed the perfect methods to remove any construction site waste quickly, efficiently and safely. We are here to provide our services for any residential and commercial property in London. Construction rubbish clearance does not have to be costly as you will see with our exceptionally low prices.
We offer a money back guarantee
if you are not completely satisfied with any part of our work. Call us now on
020 3744 5548
to get a free quote today and reserve your appointment.